His Holiness Moran Mar Baselios Marthoma Paulos II Catholicos Declares Archbishop Alvares Mar Julius and Fr R Z Noronha as 'Blessed Saints'
Udupi: Catholicos Baselios Marthoma Paulose II declared late Archbishop Alvares Mar Julius (founder of Brahmavar Konkani Orthodox Community) and late Fr R Z Noronha (First Vicar General of St Mary's Orthodox Syrian Cathedral Brahmavar) as 'Blessed' (Regional Saints) during mass at SMS Auditorium Brahmavar, here on Sunday, December 6.
A large number of devotees, priests, and family members of Fr Noronha attended the historic event.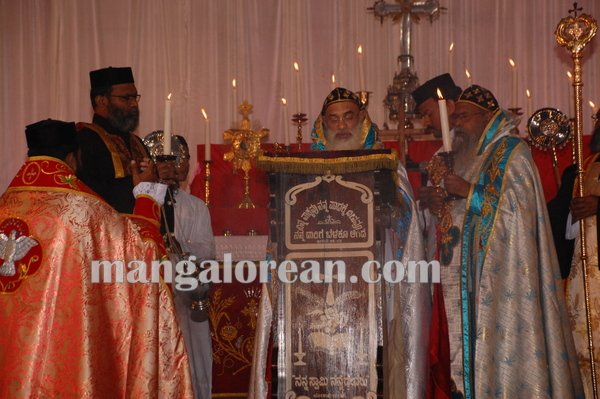 In his message, the Catholicos said that Fr Alvares Mar Julius and Fr R Z Noronha rendered their service with great devotion and enriched their lives through sacrifice. They have worked towards uniting the Christian community. It is the first time in history with demand from people that Fr. Alvares and Fr. Noronha have been declared blessed. The people should follow their life of devotion. Fr. Alvares and Fr. Noronha should live in our hearts, said the Catholicos.
On his historic visit to Brahmavar, the people of this region have vested their faith in the church. He also said that after assuming power, he had an interaction with Pope Francis and the heads of other Christian faiths. "Faith in the church should grow. The Malankara Syrian Orthodox is with the people and will support developmental initiatives," he added.
Metropolitan of Brahmavar Diocese – Yakoob Mar Elias; Assistant parish priests – Fr Abraham Kuriyakose, Fr Lawerence David Crasta, Fr Noel Lewis, Fr Lawrence D'Souza; trustee – Anil Rodrigues, Wilson Lewis and others were present.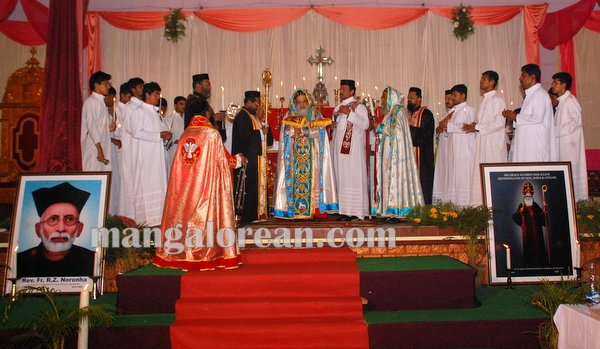 About Alvares Mar Julius
Alvares Mar Julius was born on 29th April, 1836 in the region of Goa, currently a State of the Indian Republic. H G Alvares Mar Julius was ordained as a Priest of the Catholic Order in 1869. As a priest and a staunch freedom fighter of Goa, the eminent personality, Fr. Alvares, served in his land for spiritual and social upliftment of his countrymen for a span of eighteen years during 1869-1887. His philanthropy, patriotism and yearning for freedom from foreign Portuguese yoke, journalistic acumen and his aristocratic birth had won a good number of followers in Goa and South Canara. Due to the political and religious constraints of that time in his own region, Fr. Alvares left Goa in 1887, geographically rerouted his mission area and started to concentrate his social and spiritual activities among his folks in Brahmawar.
After a while of landing to Malankara in 1887, Parumala Mar Gregorios, Metropolitan of Malankara Orthodox Church, ordained Fr. Alvares to the monastic order of Ramban. On 29 July 1889, Ramban Alvares was consecrated as a Metropolitan with title Alvares Mar Julius at the Old Seminary, Kottayam by Malankara Metropolitan Pulikkottil Mar Joseph Dionysius II and St. Geevarghese Mar Gregorios (Parumala Thirumeni, the first canonized Saint of Malankara). The newly consecrated Metropolitan Mar Julius was appointed as the Archbishop of India and Ceylon for the diocesan area of the Malankara Orthodox Church outside Kerala.
Alvares Mar Julius started the Brahmawar Mission in Karnataka in 1888. This mission was started in order to give spiritual leadership and to help teach the liturgy and catechism of the church for people from the surrounding regions who had newly joined the Orthodox Church. He was the shepherd of over 5000 faithful in Brahmavar who bestowed their allegiance to him. After organizing the community under the able guidance of the Archbishop, they started the Malankara Syrian Worship and Qurbana.
The peripatetic missionary work of Brahmawar Mission slowly and steadily spread to many places in Karnataka, Andhra and Maharashtra. Dn. Alexander learned the languages of these places, so that he could directly converse with the congregation in their own vernacular language. Bibles in Kannada, Marathi, Telugu and Hindi were found in Achen's collection of books. The Church continued its mission work by sending priests for the St. Mary's Church of Milagres and other mission works at Brahmavar. Priests who later served at Brahmavar were: Thumpamon Koshy Achen, Kuriakose Achen, Geevarghese Achen.
A primary school was started at Brahmavar with donations and from the funds raised by conducting a lottery with help of lay workers like Vettiyil Annamma of Vakathanam. She was serving among the women in Brahmavar till 1930, when her parents called her back for a late marriage. In the 1930s, girls from Brahmavar who studied in the Primary School were brought for high school education to Balikamadam Girls English High School at Thiruvalla. This practice was continued till the school at Brahmavar was upgraded to a high school. During the short Onam vacations, these children were accommodated as honoured guests in Christian houses at Thiruvalla.
Bishop Mar Alvares was living in the Archbishop Palace in Brahmavar and serving the people till 1913. In 1913, he left Brahmavar and went back to Goa, the reasons for which are unknown. He had to suffer a lot of persecution at the hands of the Portuguese. He spent the rest of his life collecting food for the poor people in Goa. He entered into eternal abode on 23rd September, 1923 at Ribandar, Panji, Goa and his mortal remains were interred in Goa.
About Fr. Roque Zephrin Noronha
Fr. Roque Zephrin Noronha was born on 20th Oct. 1850, at Angediva. He was the youngest son of Custodio Santa Anna de Noronha and Feleciana Dionisia Assumpcao da Silva.
Fr. Noronha preached the 'Orthodox Faith' to the coastal belt in undivided South Kanara viz. Brahmavar, Sasthan, Kolalgiri, Kandlur, Barkur, Neelavar and so on and laid a strong foundation of the faith.
He was impressed by the lifestyle and teachings of lamented Metropolitan Alvares Mar Julius. As the consecration of the Bishop was invoked by Mar Julius, the responsibility of St. Mary's Orthodox Syrian Cathedral was handed over to Fr. Noronha. He started to follow the footsteps of his role model in high spirits and accepted the 'Orthodox Faith'. This was because he learnt that St. Thomas had established the 'Orthodox Community' 2000 years ago in Kerala, South India.
The belief in Fr. Noronha still hasn't died out in the hearts of the people of today because he was a person who was a saint in the making. Even after 74 years of his death, his memory has taken deep roots in the hearts of the masses, especially the elderly people of Brahmavar and Brahmavarians. He founded the Cosmopolitan Higher Primary School in the year 1916. The name of the school itself reveals the personality of Fr. Noronha.
Published on :  http://www.mangalorean.com/                                                                                          Date : Sunday, December 6th, 2015  Time posted: 4:38 pm      By – Michael Rodrigues, Team Mangalorean