The Stigmata Orthodox Nun Susan Kuruvilla of India Enters Eternal Rest
Kottayam: Stigmata Orthodox Nun Susan Kuruvilla of India entered eternal rest. Mother Susan received global attention for having Stigmata wounds on her body. She was the Mother Superior of the Mar Gregorious Malankara Orthodox Monastery and a member of Carmel Orthodox Monastic community of the Indian Malankara Orthodox Church. Mother Susan has been hailed not only in her native country but in Canada, the United States and Italy as God's living saint. She received the holy stigmata, the wounds of Our Lord, at the age of thirteen. Her charitable institutions are well known.
About Mother Susan Kuruvilla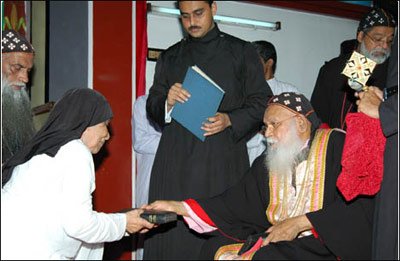 Mother Susan Kuruvilla, living saint of India was born in Thykkadavil family, Tiruvalla in the state of Kerala, India in 1927 to a devout Indian (Malankara Syrian) Orthodox family. From birth, she was initiated into and practiced the Christian faith according to prescribed traditions. She was a particularly devout child. At the age of 13 years old, when attending Good Friday services in the local church, she was marked with the stigmata. Mother Susan had a vision of Our Lord while praying in which He asked obedience of her and that she would dedicate her life to God as a consecrated virgin. With humility and wholeheartedness, she said "Yes" to the request which Jesus had made of her. These facts are well established and have been attested to by the Bishops, priests and faithful of the Church.
Mother Susan was educated in a Catholic convent and became a consecrated nun in obedience to God's Will. With God's continual guidance and grace which she received in her intense and deep prayer, she established the Mar Gregorios Ashram in 1973.
For these many past decades since she received the stigmata, Mother Susan suffers the passion of Christ each Tuesday and Friday. Under the power of the Holy Spirit, she enters entirely into Christ Crucified and her wounds begin to bleed. This passion lasts generally about one half hour and on Good Firday for three hours. Mother is attended by Father Remban T. K. Mathew, and Sistesr Mariamma and Navomy during her passion ecstasy. Many devotees also attend and receive miraculous spiritual blessings and graces from the Holy Spirit through Mother Susan. Many pilgrims have come from North America and Europe to be present at the passion which Mother Susan suffers and to participate in the spiritual life of Mar Gregorios Ashram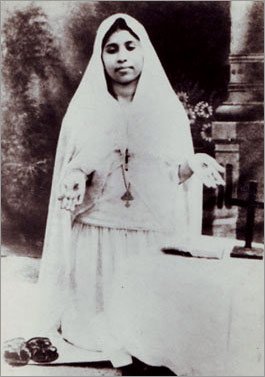 Becomes Nun
Consecrated by the Catholics of the east, she entered the sister hood as Sr. Susan Kuruvilla, at the age of 16. With her bishop's permission she accepted whiter saree 7 veil as her habit to continue her mission works. On good Friday she wears maroon colored habit and suffers the excruciating passion agony for more than 3 ½ hours reliving Jesus crucifixion.
Appearance of Passion Wounds – Stigmata
On Good Friday of the same year, while she was attending the social prayers in a chapel she felt excruciating pain all over the body: cross – shaped wounds appeared with bleeding on her palms, soles, chest right side and around the head scattered. This pain lasted till Easter Sunday morning. This rare phenomenon attracted many people from far and near. Doctors called on: critics came up. The world spoke differently. The Church hierarchy wanted to check the genuineness of her 'gifted life' this was done by a bishop: she was asked to drink water mixed with the holy frankincense from the sacred tomb of Jesus. Drop by drop she started to drink and when she drank the third drop she got very severe pain in all the wounds, spurting blood out. As the second test she had to medicate inside a sacred tomb of a bishop in North Kerala. She started the meditation on a Saturday. On Tuesday, the third day of the meditation around noon she felt very intense paint in all the wounds on her body: in presence of the bishop and many priests blood oozed out from all the paining wounds. Thus God proved that the gifts bestowed on her are genuine. Since then the wounds remain permanent: on every Tuesday and Friday she suffers the severe passion agony around noon. On Good Friday this pain lasts for more that 3 ½ hours. Every agony session stops when she goes into trance –the ecstatic state at which she is blessed with the GRACE of the holy spirit. Other than these agony times, when ever she prays and meditates she goes in trance,. It is during these trance times that she is able to help devout devotees who suffer with pains and problems.
Investigated medically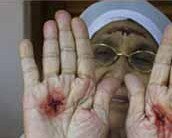 While devotees spread good news, skeptics and critics utilized the occasion to defame herby arguing that her gifted life is not genuine. In 1940's Dr. Achy Iype, Kovoor medically investigated her and found it as beyond human understanding.
During her American visit in 1977 she was tested by dr. Eugene Ged medical team. They inferred." The blood from her wound is real. Her gifted life is beyond human comprehension and super natural.