Renovated St Mary's Orthodox Syrian Cathedral, Brahmavar consecrated
Udupi: The consecration Ceremony of the renovated St Mary's Orthodox Syrian Cathedral, Brahmavar in Udupi district conducted in the presence of the Catholicos H.H Baselios Marthoma Paulose II, the Supreme Head of Indian (Malankara) Orthodox Syrian Church.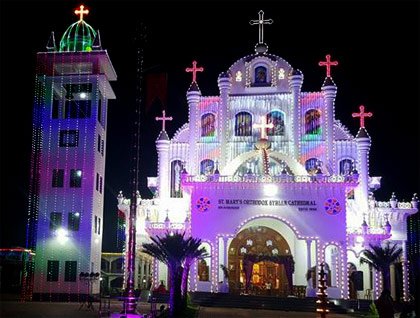 Fr. Noel Lewis, Assistant Vicar of the cathedral, said that the cathedral was founded in 1889 by the saintly and revolutionary Bishop Alvares Mar Julius and nurtured by Fr. R.Z. Noronha. The church had its humble origins in a thatched roof building where the first holy mass was celebrated by Fr. R.Z. Noronha. The foundation for the huge old church with tiled roof was laid by Fr. R.Z. Noronha. The structure of the old cathedral was completed during the tenure of the Fr. P.G. Koshy in 1960. But with time and growing number of devotees, a need was felt for renovating the cathedral.
On August 4, 2013, the Brahmavar Diocesan Bishop, H.G. Yakob Mar Elias, laid the foundation for the renovation. The work has now been completed. The renovated church has a blend of Portuguese, Kerala, and modern architecture. Thus, both elegance and purposefulness are well maintained. The beautiful front elevation, with a rising in the middle, is a reminder of the Portuguese architectural influence over the Konkani Christians of Mangaluru. The huge blue dome above the altar is the influence of Orthodox Church architecture, found mainly in Byzantine Churches.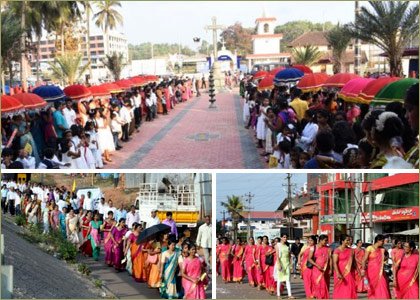 The Consecration programme begin officially by Flag Hosting at 10.30 am after the Holy Mass on Sunday 07th, 2018. Holy Mass was conducted from 08th to 10th January at 08.00 am and Special Evening Prayers at 06.00 pm.
On 11th January, the main festivities begin by "Hore Kannike" procession from Akashvani Circle to Cathedral at 03.00 pm, which was flagged off by H.G. Yakob Mar Elias (Metropolitan, Brahmavar Diocese). The devotees dressed traditionally to symbolize the original tradition of the community, gathered church by church with their wide variety of gifts. The procession was accompanied by various tableaux, Chande, Music, Brass Band, Huli Vesha and various folk troupes.
Consecration prayers started at 05.30 PM. Fr CA Isaac Vicar General of St Mary's cathedral Brahmavar welcomed the Ca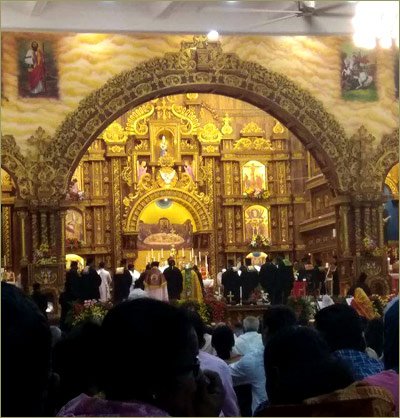 tholicos Baselios Marthoma Paulose II to conduct the Consecration ceremony of the Cathedral. The Catholicos held the Consecration ceremony along with Yakob Mar Elias (Diocesan Metropolitan, Brahmavar), Geevarghese Mar Coorilos (Diocesan Metropolitan, Mumbai), Joseph Mar Dionysius (Diocesan Metropolitan, Kolkata), Geevarghese Mar Yulios (Diocesan Metropolitan, Ahmedabad) and Abraham Mar Seraphim (Diocesan Metropolitan, Bangalore). Fellowship community dinner was served to all those who attended the Consecration ceremony.
On 12th January, the second part of the Consecration prayers conducted which begin by 06.30 am, followed by Holy Mass at 08.30 am.
After the Holy Mass, a Public Meet was held presided by H.G. Yakob Mar Elias (Diocesan Metropolitan, Brahmavar ). The Inaugural address was delivered by the Catholicos His Holiness Baselios Marthoma Paulose II.
The other dignitaries present were Ramalinga Reddy (Home Minister, Govt. of Karnataka), K.J. George (Hon'ble Minister for Bengaluru Development and Town Planning, Govt. of Karnataka), Pramodh Madwaraj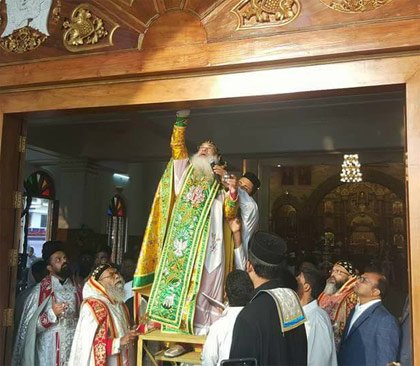 (Minister for Youth Affairs and Sports, Fisheries and District In-Charge for Udupi, Govt. of Karnataka) H.G. Dr. Geevarghese Mar Coorilose (Metropolitan, Diocese of Bombay), Dr. Gerald Issac Lobo (Bishop, Udupi Diocese, RC), Oscar Fernandes (M.P. of Rajya Sabha For Karnataka), Shobha Karandlaje (M.P. Udupi-Chikkamagaluru Constituency), Vinaya Kumar Sorake (MLA, Kapu Assembly Constituency, Karnataka), J. R. Lobo (MLA, Mangalore South Assembly Constituency, Karnataka), Ivan D'Souza (MLC & Govt Chief Whip in the State Legislative Council Govt. of Karnataka), Priyanka Mary Francis (Deputy Commissioner, Udupi District), Laxmivar Thirtha Sripadangalavar (Sri Shiroor Math, Udupi), Haji. K. Ismail Navoonda (Musliyar Mohmadiya Jumma Masjid, Akalbail, Kirimanjeshwara), Jayaprakash Hegde (Ex-MLA Brahmavar, Ex-MP Udupi-Chikkamagaluru Constituency), Navin Nayak (President, Varambally Panchayat, Brahmavar), Fr Dr M.O. John (Priest Trustee Malankara Orthodox Syrian Association), George Paul (Lay Trustee, Malankara Orthodox Syrian Association) and Biju Oommen (Secretary, Malankara Orthodox Syrian Association).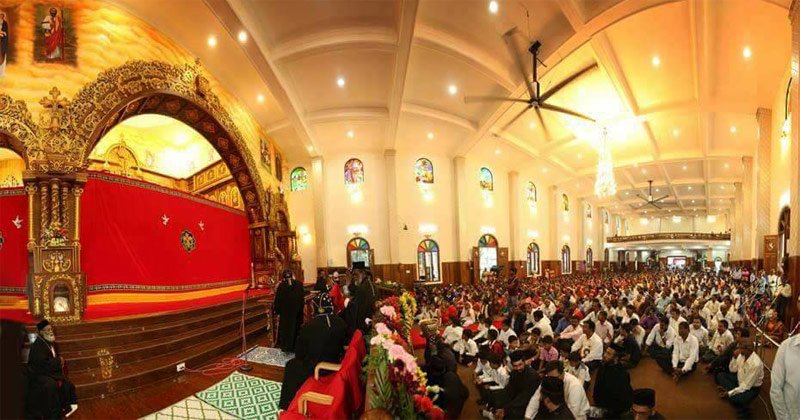 A Brief Note on St. Mary's Cathedral
St Mary's Orthodox Syrian Cathedral, Brahmavar, is the only Konkani Orthodox Church in the entire world with 125 years of Glorious Past as a part of the 2000-year-old Indian Church, namely the Indian (Malankara) Orthodox Church, which was found by St Thomas the Apostle in 52 AD in India.
The Triune blessed presence & the intercession of St Mary, Blessed Alvares Mar Julius and Blessed Fr R.Z. Noronha has established the Cathedral as the epitome of Piety and the Centre of Devotion. Thus, it has been attracting thousands of devotees every year, from all castes, creed and religion.
The Cathedral has 6 chapels in Kolalgiri, Kurady, Sastan, Kandlur, Hosangady and Hulikel, Shimoga; and 5 congregations in Mumbai, Bangalore, Mandya, Kuwait and UAE.
As much it's a centre of religious fervour, it is also a symbol of cosmopolitanism. Its Institutions having a deep impact in the field of education and the economic growth of Brahmavar and beyond. The Cathedral has around 8 educational institutions ranging from Kindergarten to Post Graduate Studies.
Late Fr Damien Lopez, Late Fr P.G. Koshy, Late Fr K.K. Kuriakose, Late Fr K.T. Varghese, Fr Lazarus, Late Fr N.J. Thomas Ramban, Late Fr T.M. Kuriakose Ramban, Fr G.M. Skaria Ramban, Fr P.A. Johnson and many other vicars have given selfless service to the growth of the Cathedral and its community, in the bygone eras. Today it is served by Fr C.A. Isaac, Fr Lawrence D'souza, Fr David Crasta, Fr Abraham Kuriakose, Fr Noel Lewis and Fr Joseph Chacko.